Happy Juneteenth, a Shared Past Strengthening the Global African Diaspora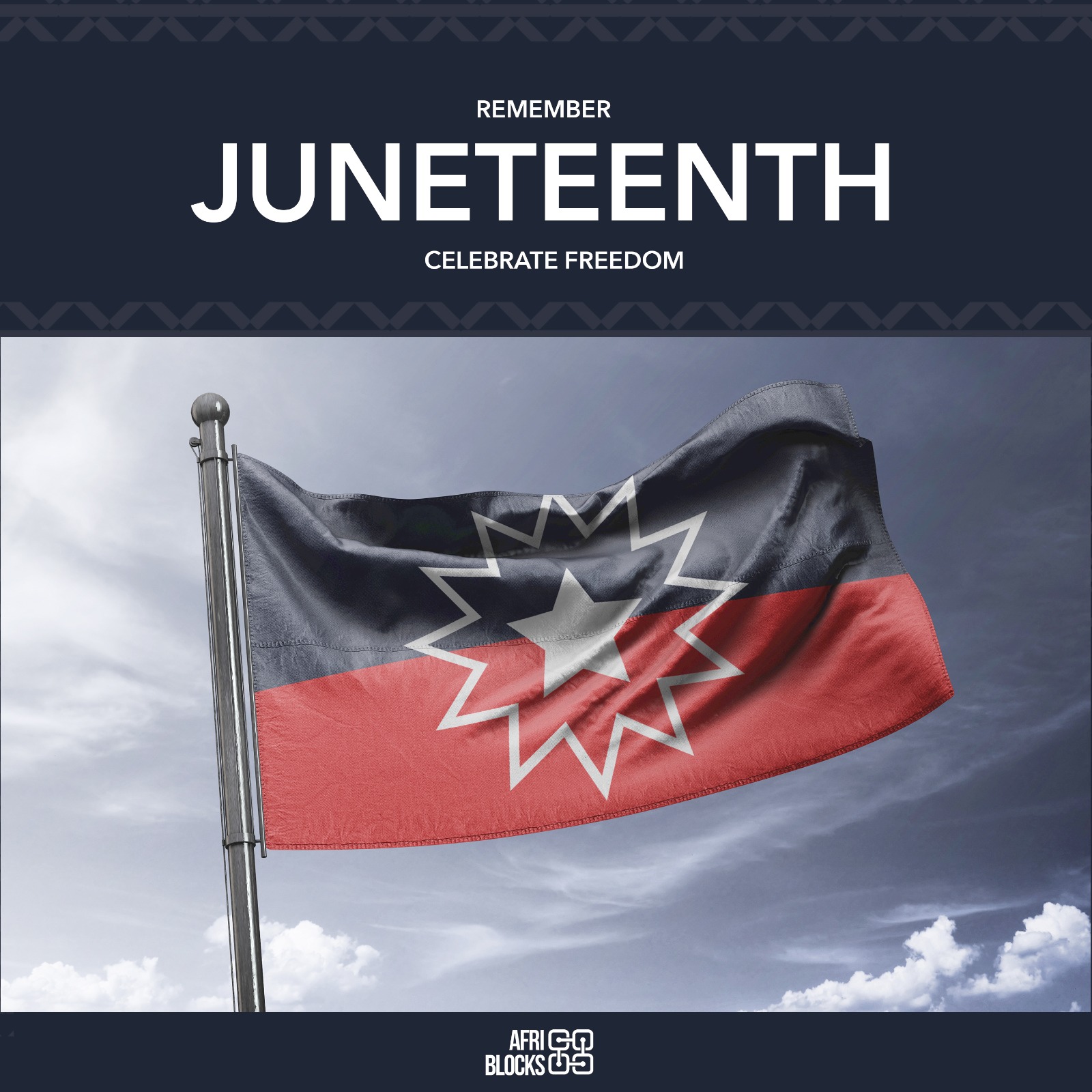 Remembering Juneteenth
By Ryan K. Smith | AfriBlocks
Happy Juneteenth, everyone! Are you familiar with this newly-minted federal holiday in the United States? If not, June 19 is the oldest celebration of the so-called end of chattel slavery in the Americas. All-in-all, it is a celebration of liberation for Black Americans, resulting from a shared fight that people of African descent across the Diaspora have been fighting for throughout history. AfriBlocks is an ally in this universal struggle for freedom in its own way and finds inspiration in the Juneteenth story. "A shared past strengthens the global African diaspora," says AfriBlocks co-founder Roger Roman, "but our shared future depends on a continuous fight for and celebration of freedom."
Many believe that U.S. slavery ended on January 1, 1863, when President Abraham Lincoln's Emancipation Proclamation went into effect. However, that was not the case as it was not enforceable in slaveholding areas. Others are under the assumption that the American Civil War, which was waged over slavery, was finished when Confederate General Robert E. Lee surrendered to Union General Ulysses S. Grant at the Battle of Appomattox Courthouse two years later. "When Lee surrendered at Appomattox, it's not over. Major military campaigns went through June, and people continue to fight for years," explains Erin Stewart Mauldin, assistant professor of history at the University of South Florida St. Petersburg campus. "Depending on how isolated the enslaved were from the U.S. army or networks of information or places they could escape to, bondage did not end in 1865."
Juneteenth marks the day that troops led by U.S. Brigadier General Gordon Granger marched into Galveston, Texas, to announce that the war was over and that the enslaved were free on June 19, 1865. Even after "liberation," the formerly enslaved were cast out into the world with no wealth, property, or education, forcing them to labor for scraps in the same fields, for the same masters.
Though figures like Lincoln and Grant are largely assumed to be the Great Liberators of Black people in the United States, such an assumption doesn't tell the whole story. Black Americans– enslaved and free– travailed endlessly to bring about their own freedom. Even as the Union troops moved through the South in attempts to enforce emancipation during the Civil War, many of the enslaved liberated themselves by escaping behind Union lines themselves, many joining the U.S. Army and Navy. Additionally, names such as Harriet Tubman, Frederick Douglass, Sojourner Truth, Martin Delany, and Nat Turner represent many Black freedom fighters and abolitionists who disrupted the future of chattel slavery through their heroism and activism organizing and uprisings.
The spirit of Juneteenth continues to live on throughout the Black Diaspora. Though they take many forms, the notion of "freedom" is central to Pan-African movements worldwide. Regardless of location, organizations, and individuals fighting on behalf of Black people across the globe travail to fully liberate their brethren and improve their quality of life.
AfriBlocks is a Pan-African entity of sorts, boasting an army of freelancers and clients from across the Diaspora. We aim to generate a degree of freedom for our talent financially through consistent paid work and professionally through networking and free upskilling resources. For our clients, we offer a sense of freedom through affordable, high-quality work with quick turnaround, thus enhancing their brands and alleviating them from the stress of completing specific tasks on their own. It is our goal to build up all parties involved.