AfriBlocks and DataCamp Donates Renew Partnership to Empower Young African Freelancers with Scholarships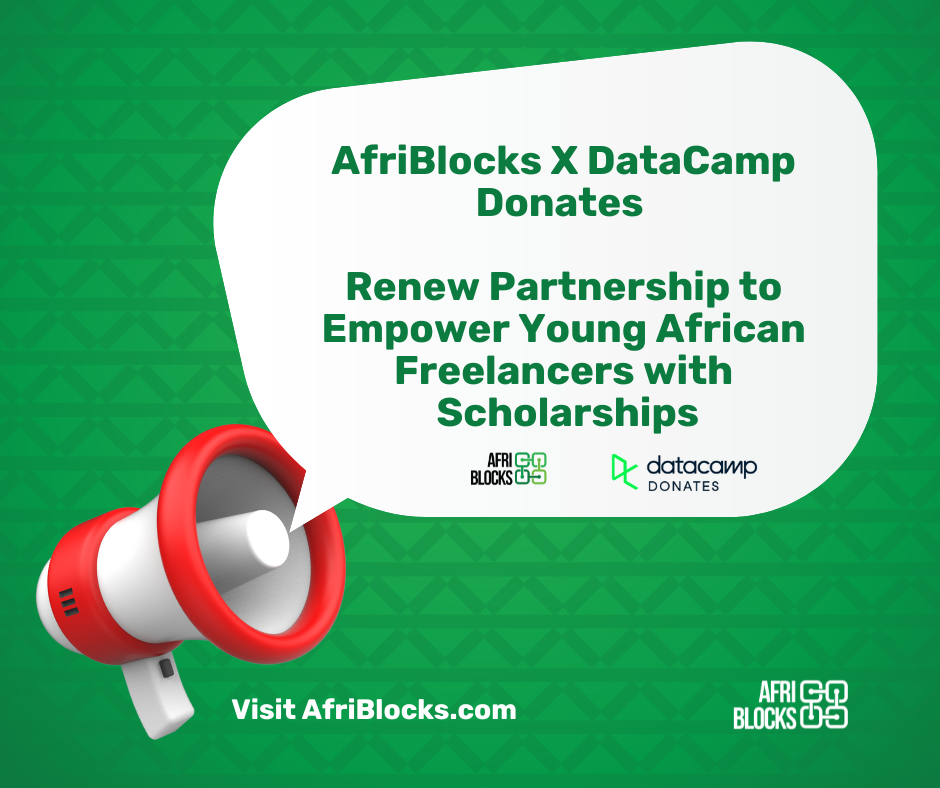 AfriBlocks and DataCamp Donates have renewed their partnership to provide scholarships for courses in Python, data science, and artificial intelligence to young African freelancers for another year. The initiative aims to bridge the skills gap, foster professional growth, and increase education and access to in-demand courses for African freelancers.
Since 2021, the partnership has made a significant impact on African freelancers, providing them with courses tailored to their individual skill sets. These courses provide an enjoyable and accessible learning experience, enabling African freelancers to learn new skills, gain valuable knowledge, and improve their job prospects.
Numbers Associated with the Program:
Since partnering, DataCamp and Afriblocks have collaborated to donate free DataCamp scholarships to over 2,200 African freelancers. Those aspiring professionals have used the platform for a combined total of over 13 years, collectively earning over 33 million XP. This partnership shows DataCamp Donates' commitment to providing access to high-quality education, especially to those who do not have the access. Their interactive, online courses and resources encourage individuals to learn data science skills and further their education.
AfriBlocks is committed to helping African freelancers up-skill, find meaningful work, and succeed on the global market. By exposing African freelancers to rewarding opportunities, AfriBlocks strengthens local economies and supports communities and individuals within them.
This partnership is vital for bridging the skills gap in Africa and empowering young African freelancers with the necessary skills to succeed in the global market. According to a report by the International Labour Organization (ILO), a significant number of the youth population in Sub-Saharan Africa are either unemployed or working in low-paying jobs.
Through initiatives like these, AfriBlocks and DataCamp Donates are making strides towards reducing this number and creating a brighter future for young African freelancers. We encourage disadvantaged individuals across Africa who cannot afford to purchase DataCamp to join Afriblocks and start their journeys towards data literacy by applying for a DataCamp Donates scholarship.
To Apply For A DataCamp Donates Scholarship through Afriblocks, visit : https://afriblocks.com and click link under "Learn."
Thank you to the many #DCDonates scholarship recipients who shared their learning journeys on social media! Here are just a few: