The Sproutly Support Services Story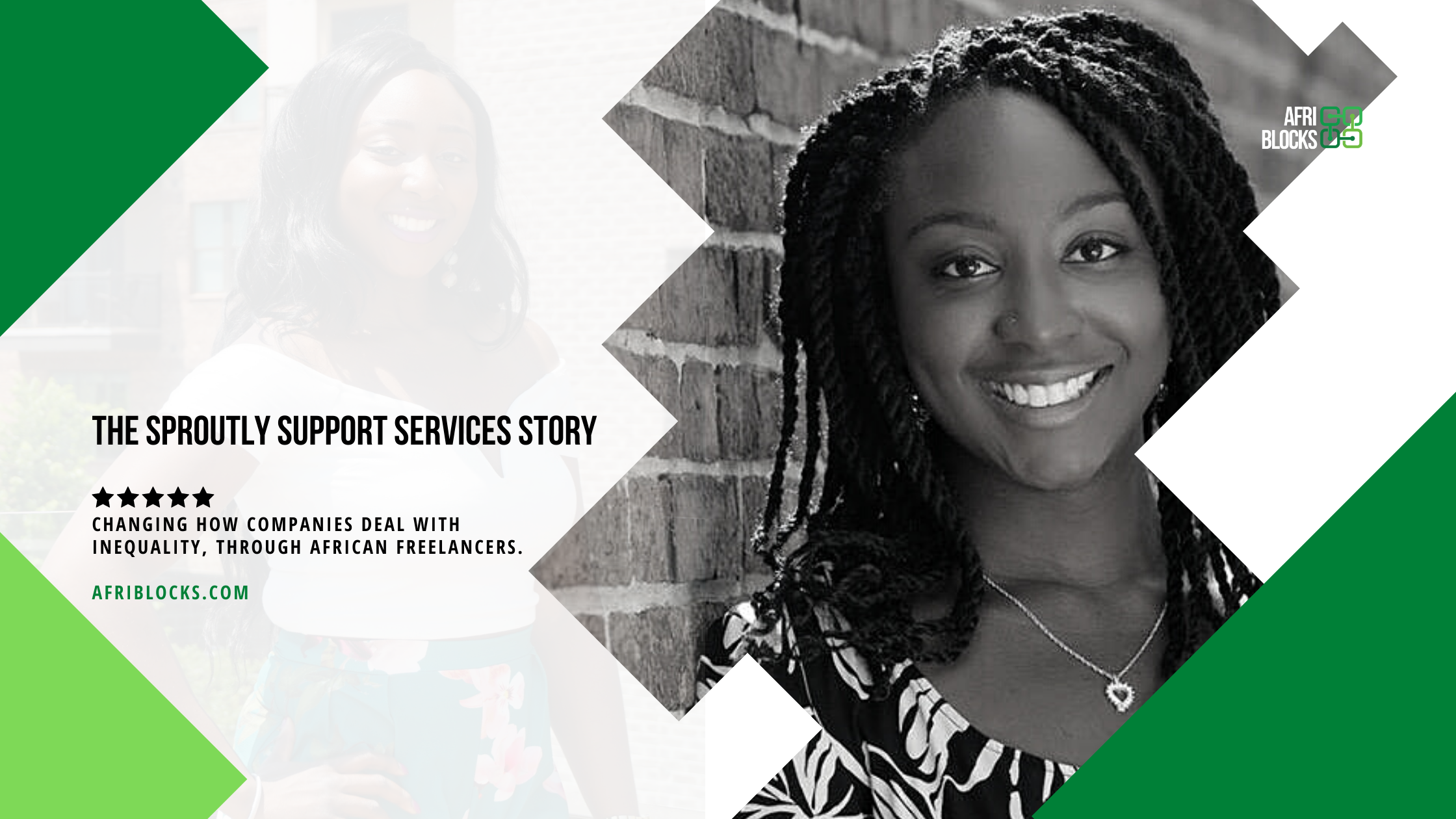 The Sproutly Support Services Story: Changing how companies deal with inequality, through African freelancers.
One of the benefits that AfriBlocks offers is that the freelancers are there throughout the creative process of a project, from conceptualization to execution, mitigating the pressure on the company or individual. Not only do we take pride in the quality of work our freelancers produce, but we also take pride in the clients that we serve. We are happy to assist our clientele which includes a number of impressive individuals on remarkable journeys.
Today, we'd like to highlight one of our standout clients. Her name is Chinonye "Chi Chi" Egbulem and she is a gender specialist and racial equity consultant based in Uganda. She holds master's degrees in public health and social work. One of her passions is to see everyone have access to healthcare, food, education, income, and job opportunities. She is constantly expanding the scope of her practice by locating gaps in various socio-economic areas and working to fill them.
Her company, Sproutly Support Services, strives to dismantle inequality across disciplines by providing a plethora of resources designed to enhance entities and individuals. Chinonye's interdisciplinary background gave her insight on how to develop systems that would change how companies and various organizations dealt with inequality. Sproutly was born after several companies and individuals approached Chinonye online to facilitate them with company reform/restructuring and self-development consultation.
For a decade, Sproutly has offered services including career and educational guidance, self-development resources, and various self-improvement tools to help patrons reach their goals. The company also partners with several organizations around the world to promote systems surrounding diversity, inclusion, equity, anti-oppression, and anti-racism.
While living in Eswatini, Chinonye met a Zimbabwean photographer at one of her networking events and decided to follow her on social media. She noticed that the photographer began promoting AfriBlocks via social media after using our services to develop her website. Chinonye was curious to know more about AfriBlocks and decided to reach out to one of our graphic designers for some work. After working with our graphic designer for six months, she sought after AfriBlocks to develop the Sproutly website. AfriBlocks was there from the beginning of the project to the end. She loved the website and was extremely impressed by the work that was done. Since working with AfriBlocks freelancers Akudzwe Mhangami, Ruth Mazango, and Edwin Chabuka, Sproutly has launched and established itself as a more formidable force.
Currently, Sproutly is developing a new project to provide Africa with holistic, personalized healthcare through digital healthcare technology, which the continent currently lacks. Chinonye says that Sproutly is "working towards building an end-to-end digital health platform that enables healthcare stakeholders across the value chain to streamline their workflow management systems" in hopes of creating better access to healthcare for Africa on a larger scale.
The relationship between Sproutly and AfriBlocks is stronger than ever and will continue growing. It all began through networking, which is one of the keys to success that Chinonye preaches to all freelancers and business owners worldwide. AfriBlocks offers her continual access to a graphic designer and website developer, significantly reducing the amount of time she would spend doing it herself. The other key to success she highlighted was to outsource. She believes that outsourcing tasks prevents burnout and extra work that you don't always need to do, especially if you know that you are out of your area of expertise.
Check out Sproutly online at www.sproutlyconsulting.co