AfriBlocks Partners with KYCK Global to Integrate Visa Push-to-Card Payment Options for African Freelancers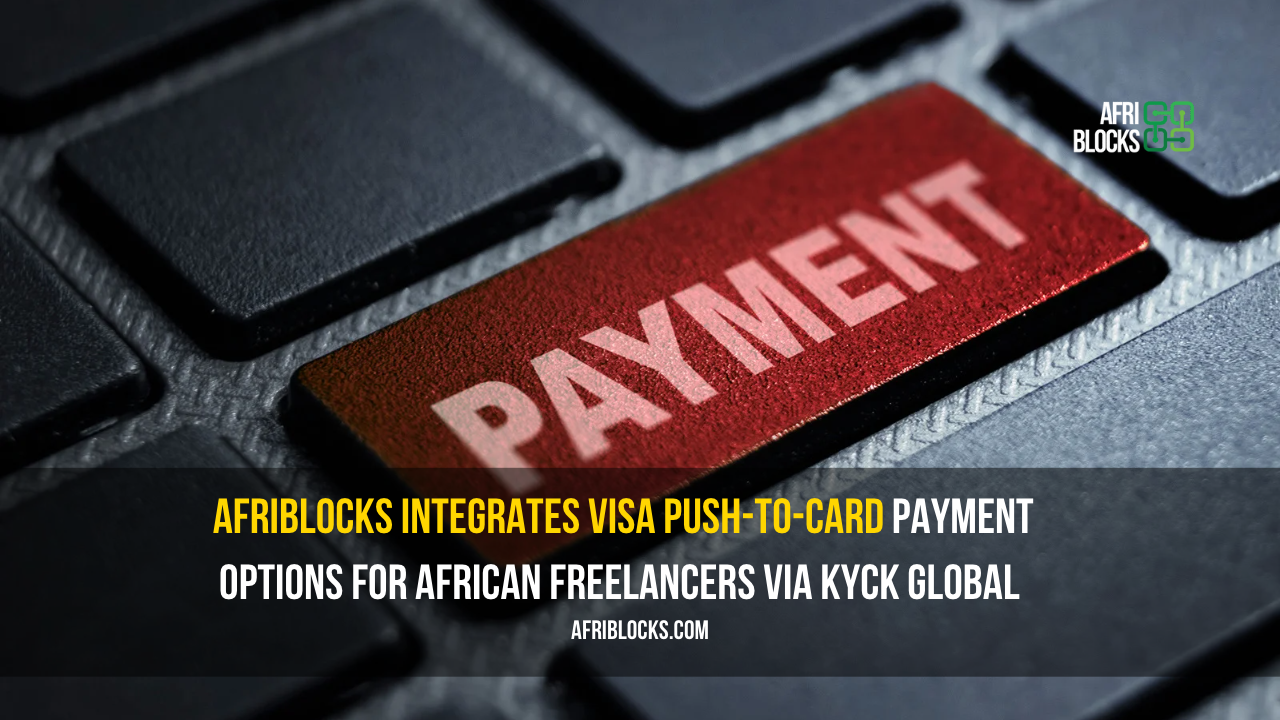 AfriBlocks, the pan-African freelance talent marketplace, has recently integrated with KYCK Global to offer Visa push-to-card payment options for freelancers in four additional African countries – Kenya, Zambia, Ghana, and Namibia.
With flat fees as low as $5 USD, this move aligns with the startup's mission to provide affordable payment solutions and enhance the gig-economy technology infrastructure on the continent, to allow seamless collaborations between global clients and remote African talent. AfriBlocks' integration with KYCK will be a key part of AfriBlocks' mission to empower African freelancers. With increased access to payment solutions, African freelancers will be better able to transact on digital platforms and open up new opportunities.
The Need for Improved Payment Solutions
One of the challenges that affect African freelancers' ability to participate in the global economy is restrictive financial options in terms of receiving and making international payments. African freelancers often face challenges in receiving payments from clients due to limited financial infrastructure and high transaction costs. Low and differing KYC compliance also affects the extent to which African banks can serve their clients where international transactions are concerned.
AfriBlocks' integration with KYCK Global aims to address this issue, making it easier for freelancers to access payments from international clients. This integration not only streamlines the payment process but also fosters financial inclusion for the growing freelance community across the continent. AfriBlocks and KYCK aim to add more African countries to the list of those with access to the Visa push-to-card payment option.
AfriBlocks CEO, Tongayi Choto, said that "We are aiming to provide access to convenient and secure payment solutions, while also creating transparency and trust among users. These solutions will give African freelancers access to alternative financing options, such as crowd-sourced loans, and offer other features such as payments abroad, disbursement to multiple accounts, and automated invoice submission. We are continuing to develop new solutions to meet the challenges that African freelancers face in the digital economy."
Impact on African Freelancers
This development not only improves the financial prospects for African freelancers but also encourages more professionals to explore freelancing as a viable career option. By enhancing its technology infrastructure and partnering with global payment providers, AfriBlocks is positioning itself as the go-to platform for clients seeking to work with skilled and talented African professionals. This collaboration signifies a crucial step towards financial inclusion and empowerment for freelancers across the continent.
As the AfriBlocks network continues to expand, more African freelancers gain access to meaningful freelance job opportunities. The partnership with KYCK Global comes a few weeks before AfriBlocks is due to host the 3rd annual Freelancers' Summit. During the summit, freelancers, tech industry leaders, and other interested parties come together to discuss various topical issues that have an effect on Africa's future of work.
To learn more about the summit and get free tickets, visit https://afriblocks.com/freelance-summit.