AfriBlocks x DataCamp Partnership Elevates Freelancers' Careers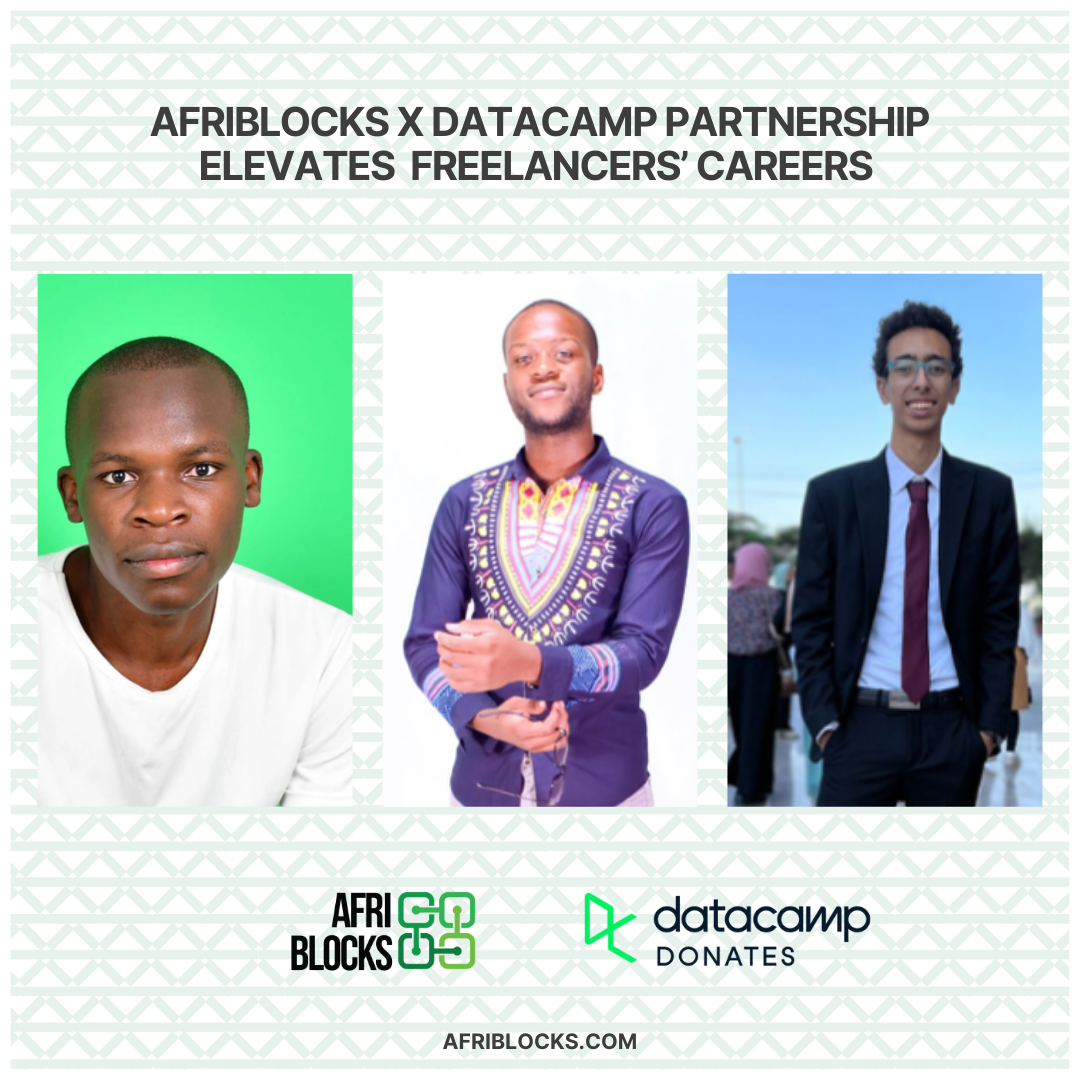 African professionals are at the center of the platform that AfriBlocks has set out to build. The goal is to provide African talent with a platform through which they can provide businesses and individuals across the world with the services they need. In so doing, African professionals have an opportunity to explore the full extent of their capabilities in the different industries they are skilled.
Part of this involves collaborating with brands that share a similar vision, to bring the most talented individuals in the world to the fore. It is with this in light that AfriBlocks collaborated with DataCamp Donates to provide African freelancers on the platform with access to courses that can help them upskill or learn completely new skills. Ensuring that the AfriBlocks community has an opportunity to test and improve their skill sets is one of the ways through which talent can be assisted in showing their best to the world.
AfriBlocks and DataCamp have come together to give AfriBlocks registered freelancers access to free DataCamp courses. These courses are an opportunity for these freelancers to learn new skills or find a way to pivot into new skill sets. We conducted a survey among some of the AfriBlocks freelancers that have taken up the free DataCamp course we've availed to them and this is what we found.
Upskilling is a priority
All of the respondents in the survey said that they would take up more DataCamp courses and that they would recommend the service to their colleagues/friends/family. This tells us that learning new skills, or increasing the skill level in the skills they possess now, is something that professionals on our platform are concerned about.
Our partnership with DataCamp is making a tangible impact
We asked our respondents what kind of impact the DataCamp courses they took have had on their careers. Tosin Oluyemi from Nigeria said that "DataCamp has allowed me to blend learning and practice together. It has had a huge positive impact on my learning rate and work confidence."
Responding to the same question, Martin Kamotho, who is based in Kenya, says that the courses he took on DataCamp helped to increase his appreciation of the role of data in business. When professionals develop a deeper understanding of how the skills they possess can impact business, the overall prospects of businesses on the continent are improved.
DataCamp courses have immediate practical applications
Data is one of the most important commodities in today's world, and the societies that put it at the forefront of their business applications give themselves a better chance of attaining success. The applications of data-based skills are limitless, and some of the freelancers that have taken our DataCamp courses have had an opportunity to use the skills they've learned in particular situations.
Ziad Ayman Mahomed has used the data analysis skills learned from DataCamp to analyze the performance of a call center at the organization he volunteers for. This is just one example of the kind of applications that these data-based skills can be used for. As more talent gets armed with different data skills, we build a diverse pool of skilled individuals that are ready to serve the needs of the world's labor market.
The AfriBlocks and DataCamp Donates partnership will continue to transform the careers of current and future generations of African workers. Free access to the DataCamp's world-class curriculum boosts their competitiveness and employability in a globally connected job market. We are thankful and honored to work with DataCamp Donates to democratize education in our communities and help develop a data-literate African workforce for worldwide clients.
To be a beneficiary of this opportunity, visit https://afriblocks.com/, and let's get you started on your journey with AfriBlocks and DataCamp.