Our Co-Founder Tongayi Choto – Most Influential People Of African Descent Under 40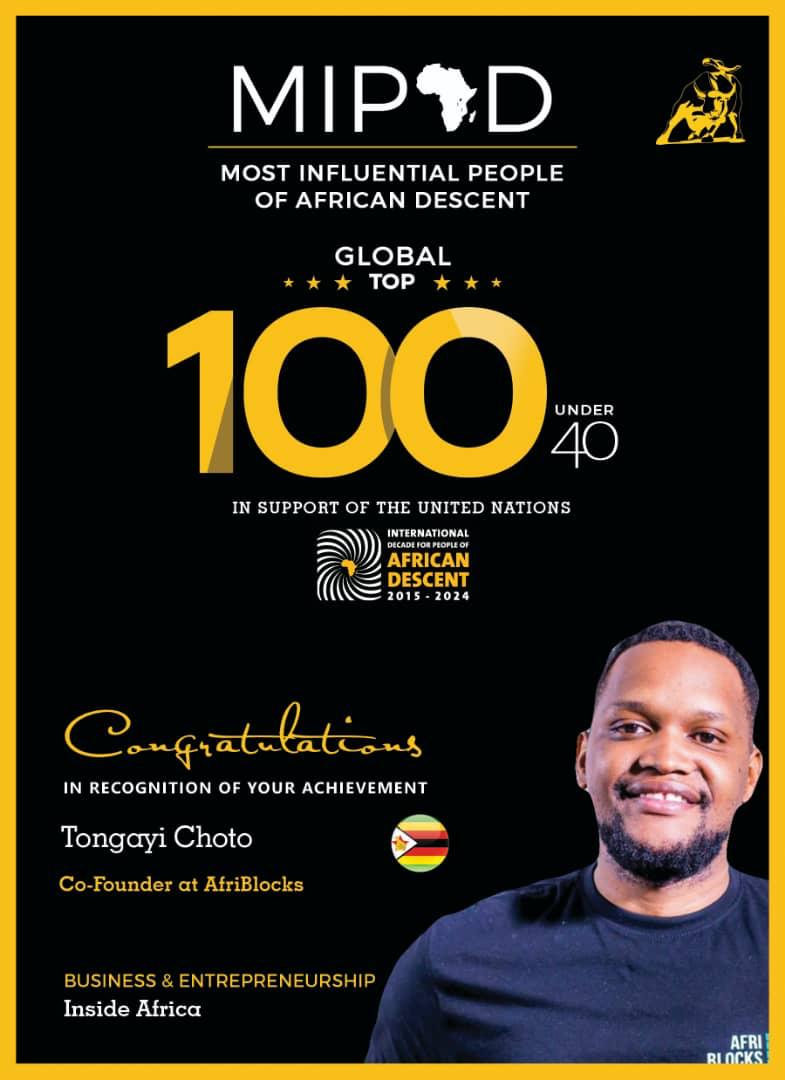 Congratulations to AfriBlocks Co-Founder and CEO, Tongayi Choto for being recognized as one of the Most Influential People Of African Descent Under 40, Inside Africa 2020.
In support of the International Decade for People of African Descent, proclaimed by United Nation's General Assembly resolution 68/237 and to be observed from 2015 to 2024, the Most Influential People of African Descent (MIPAD) identifies high achievers of African descent in public and private sectors from all around the world as a progressive network of relevant actors to join together in the spirit of recognition, justice and development of Africa, it's people on the continent and across it's Diaspora. https://mipad.org
About Tongayi Choto:
Tongayi Choto is the co-founder & lead software developer of AfriBlocks a Pan-African marketplace where African freelancers can provide remote services to clients across the world.
Former Vice-Chair Science & Technology Sector for the African Union | Pan African Diaspora Youth Association.
An Entrepreneur Based in Harare, Zimbabwe, who has shown leadership in the technology space in Zimbabwe & Africa.
Experienced in developing blockchain-based solutions since 2014. Part of the team that received the world's first-ever remittance license from a reserve bank to explicitly use bitcoin to send funds, as Product Development Manager at BillMari an international fintech startup based in Washington D.C, USA.
BSc Computer Science & Maths (University of Zimbabwe)
About AfriBlocks: AfriBlocks is a global Pan-African freelance network where qualified, skilled, and talented African freelancers can provide remote services to clients across the world at affordable pricing. https://afriblocks.com